Your parts – One single click
With the operations of our sister companies, Heli-Inter and Mustang, we have one of the most extensive parts inventories in the country. If we don't have what you're looking for, we'll use our extensive network to make sure we find it for you.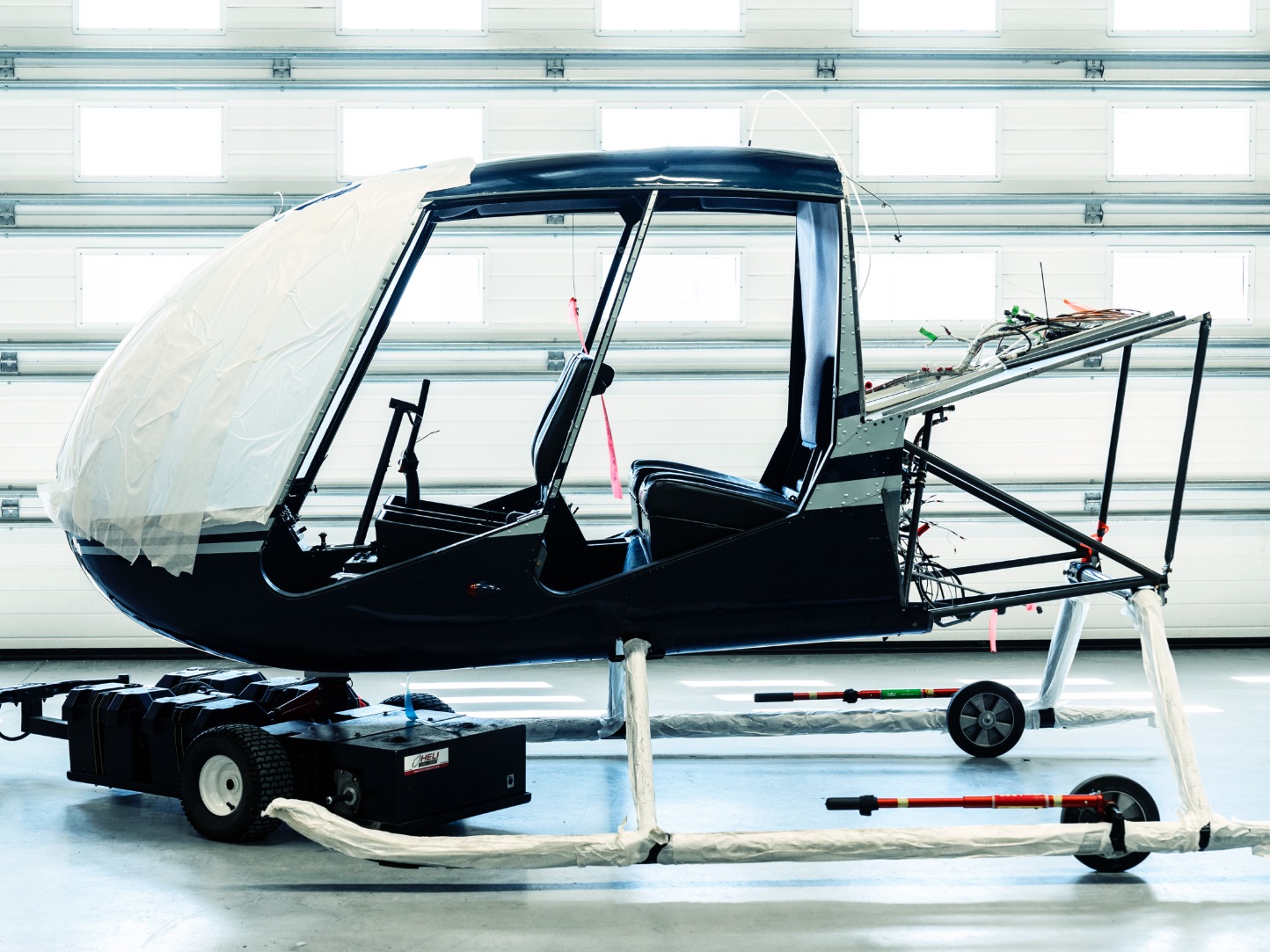 Bell CSF – To Your Advantage
We are the only Bell CSF facility in Eastern Canada that can make you benefit from our special discounts. Call us to get your special pricing on parts.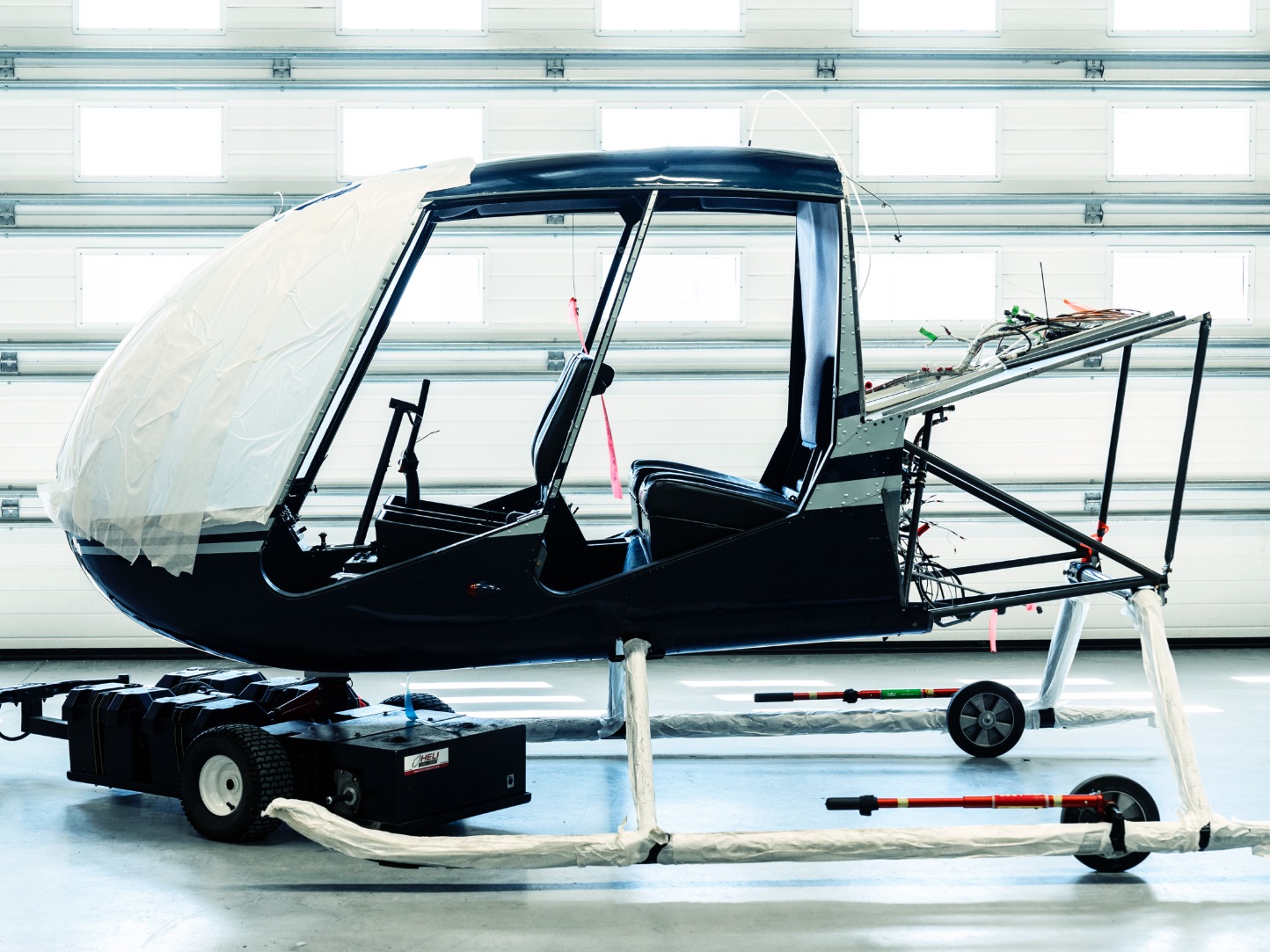 | | | | | | | |
| --- | --- | --- | --- | --- | --- | --- |
| Part # | Qty | Cond. | DESC. | UoM | Serial # | Add to Quote |
| 407-340-340-103 | 1 | NEW | T/R DRIVESHAFT DISCPACK | EA | RNFS23617 | |
| 407-340-340-103 | 1 | NEW | T/R DRIVESHAFT DISCPACK | EA | | |
| 407-362-005-103 | 1 | NEW | SWITCH ASSY | EA | 1758 | |
| 407-362-005-105 | 1 | NEW | SW¸LOW LEVEL¸FU | EA | 1417 | |
| 407-362-013-103 | 1 | NEW | SWITCH | EA | 3960 | |
| 407-375-001-107 | 1 | NEW | INDICATOR LITTO | EA | 806 | |
| 407-375-002-105 | 2 | NEW | INDICATOR LITTO | EA | 1330 | |
| 407-375-003-109 | 1 | RP | TORQUE GAUGE | EA | 1034 | |
| 407-375-015-111 | 1 | INSPECTED | CAUTION PANEL | EA | 1144 | |
| 407-375-201-101 | 1 | NEW | SPEED SENSOR-MONOPOL | EA | 1183 | |
| 407-539-102 | 1 | SV | MAINTENANCE STEP | EA | | |
| 407-539-102 | 1 | SV | MAINTENANCE STEP | EA | | |
| 405-340-500-105 | 1 | OH | OIL COOLER | EA | 388 | |
| 8536578 | 1 | OH | OIL COOLER | EA | CC-20 | |
| 209-060-522-001 | 1 | OH | OIL COOLER | EA | 74A-920 | |
| 206-015-001-115 | 1 | SV | BLADE | EA | A-6348 | |
| 407-030-644-106 | 1 | SV | R/H LOWER HINGE AFT DOOR | EA | | |
| 407-076-008-101 | 1 | NEW | LINE HYD | EA | | |
| 407-310-101-105 | 1 | NEW | M/R SHEAR BEARING | EA | LK16041 | |
| 407-310-101-105 | 1 | NEW | M/R SHEAR BEARING | EA | LK16206 | |
| 407-310-102-103 | 1 | NEW | M/R LEAD LAG BEARING | EA | 12183 | |
| 407-310-102-103 | 1 | NEW | M/R LEAD LAG BEARING | EA | 12114 | |
| 407-310-102-103 | 1 | NEW | M/R LEAD LAG BEARING | EA | | |
| 407-310-102-103 | 1 | NEW | M/R LEAD LAG BEARING | EA | | |
| 407-310-102-103 | 1 | NEW | M/R LEAD LAG BEARING | EA | 12155 | |
| 407-340-003-101 | 1 | NEW | TRANSMISSION INPUT SEAL | EA | | |
| 407-340-106-101 | 1 | NEW | FREEWHEEL FRON SEAL SLEEVE | EA | | |
| 407-340-109-101 | 1 | NEW | HYDRAULIC PUMP DRIVE SHAFT RIN | EA | 250-02359452 | |
| 407-340-109-101 | 3 | NEW | HYDRAULIC PUMP DRIVE SHAFT RIN | EA | | |
| 407-340-302-103 | 1 | NEW | ROTOR BRAKE CALIPERS | EA | 1202 | |
| 407-340-302-103 | 1 | NEW | ROTOR BRAKE CALIPERS | EA | 1195 | |
| 407-340-318-101 | 1 | NEW | ROTOR BRAKE DISK | EA | 355 | |
| 407-340-318-101 | 1 | NEW | ROTOR BRAKE DISK | EA | 1618 | |
| 407-340-339-107 | 1 | NEW | T/R DRIVESHAFT BEARINGS | EA | ZS32375 | |
| 407-340-339-107 | 1 | NEW | T/R DRIVESHAFT BEARINGS | EA | ZS32097 | |
| 407-340-339-107 | 1 | NEW | T/R DRIVESHAFT BEARINGS | EA | ZS32376 | |
| 406-340-104-101 | 1 | NEW | ENGINE GEARBOX PTO SEAL | EA | | |
| 406-340-105-101 | 1 | NEW | SEAL | EA | M002150 | |
| 406-340-105-101 | 1 | NEW | SEAL | EA | | |
| 406-340-105-101 | 1 | NEW | SEAL | EA | 1000185883 | |
| 406-340-500-105 | 1 | OH | OIL COOLER | EA | 388 | |
| 406-376-001-101 | 2 | NEW | GASKET | EA | | |
| 407-001-511-101 | 1 | NEW | SUPPORT ASSY | EA | TI921 | |
| 407-001-524-109 | 1 | NEW | BELL CRANK ASSY | EA | TI1564 | |
| 407-001-526-109 | 1 | OH | BELL CRANK ASSY | EA | TI1092 | |
| 407-001-528-105 | 1 | NEW | BELL CRANK ASSY | EA | TI1088 | |
| 407-010-115-101 | 1 | SV | FRONT COVER | EA | | |
| 407-010-203-105 | 1 | NEW | BEAM ASSEMBLY | EA | TI2080 | |
| 407-010-206-103 | 1 | NEW | SPRING ASSY | EA | BP2458 | |
| 407-030-054-101 | 1 | NEW | CLIP RESTRAIN | EA | 8803300000 | |
| 407-030-054-101 | 3 | NEW | CLIP RESTRAIN | EA | 8803300000 | |
| 407-030-601-103 | 2 | NEW | CLEVIS | EA | | |
| 407-030-601-107 | 2 | NEW | CLEVIS | EA | | |
| 407-030-601-109 | 2 | NEW | CLEVIS | EA | | |
| 407-030-603-101 | 2 | NEW | DOOR STRIKER PIN | EA | | |
| 407-030-643-001 | 1 | SV | R/H UPPER HINGE | EA | | |
| 406-310-402-103 | 1 | NEW | BEARING | EA | | |
| 406-340-104-101 | 1 | NEW | ENGINE GEARBOX PTO SEAL | EA | | |
| 406-010-117-125 | 1 | NEW | LOWER PLATE ASSY | EA | AZ1364 | |
| 406-010-117-125 | 1 | NEW | LOWER PLATE ASSY | EA | AZ1371 | |
| 406-010-120-109 | 1 | NEW | BOLT ASSY (FS) | EA | ZZFS1631 | |
| 406-010-120-109 | 1 | NEW | BOLT ASSY (FS) | EA | ZZFS1229 | |
| 406-010-401-117 | 1 | OH | SWASHPLATE & SUPPORT ASSY | EA | TI419 | |
| 406-010-417-101 | 1 | SV | BEARING & LINER | EA | TI1189 | |
| 406-010-417-101 | 1 | SV | BEARING & LINER | EA | TI11207 | |
| 406-010-418-101 | 1 | NEW | CAP | EA | | |
| 406-010-423-101 | 2 | NEW | SWASHPLATE FRICTION SHIM | EA | 977726-0020405 | |
| 406-010-431-109 | 1 | NEW | LEVER ASSY | EA | TI1161 | |
| 406-040-316-101 | 1 | NEW | T/R DRIVESHAFT SPLINED ADAPTER | EA | BGFS802 | |
| 406-040-316-101 | 1 | NEW | T/R DRIVESHAFT SPLINED ADAPTER | EA | BGF803 | |
| 406-040-500-143 | 1 | | FREEWHEEL ASSY | EA | A-6930 | |
| 406-310-404-101 | 1 | NEW | RODEND ASSY | EA | NH18277 | |
| 406-310-404-101 | 1 | NEW | RODEND ASSY | EA | NH18236 | |
| 406-312-106-101 | 1 | NEW | T/R PITCH CHANGE BOOT | EA | | |
| 406-340-102-101 | 1 | NEW | SEAL | EA | | |
| 406-340-104-101 | 1 | NEW | ENGINE GEARBOX PTO SEAL | EA | | |
| 212-001-321-001 | 1 | SV | ARM ASSY | EA | | |
| 212-076-180-1 | 1 | SV | TUBE ASSY | EA | | |
| 212-076-183-1 | 1 | SV | TUBE ASSY | EA | | |
| 212-076-184-1 | 1 | SV | TUBE ASSY | EA | | |
| 212-750-002 (SH3884SW) | 1 | SV | RADOME ASSY | EA | | |
| 41001140-001 | 1 | SV | HYD SERVO | EA | 1140 | |
| 5G1516RR-AP-XST-1 | 1 | SV | GPS/SAT PHONE ANTENNA | EA | 1003-A230799 | |
| 5G1516RR-AP-XST-1 | 1 | SV | GPS/SAT PHONE ANTENNA | EA | 1003-A226631 | |
| 5G1516RR-AP-XST-1 | 1 | SV | GPS/SAT PHONE ANTENNA | EA | 1003-A230788 | |
| 65100-119 | 1 | SV | PRESSURE TRANSDUCER | EA | 12162 | |
| CDP-250G | 1 | SV | SAT/COM SKY TRACK | EA | 11745 | |
| DVI-250C | 1 | SV | SAT/COM SKY TRACK | EA | 13300 | |
| GPS150XL | 1 | SV | GPS GARMIN | EA | 81705017 | |
| NT-150 | 1 | SV | FM TRANSMITTER | EA | 1255 | |
| NT-150 | 1 | SV | FM TRANSMITTER | EA | 1435 | |
| NT-30B | 1 | SV | FM TRANSMITTER | EA | 1042 | |
| TH-250-2NNN | 1 | SV | FM COM NAT | EA | 1125 | |
| TH-250-2VN | 1 | SV | FM COM | EA | 1125 | |
| TH350-2NNN | 1 | SV | FM TACTICAL COM NAT | EA | 2386 | |
| 407-010-117-125 | 1 | NEW | LOWER PLATE ASSY | EA | AZ1372 | |
| 100260 | 1 | SV | BLUE SKY TRACKING CONTROLLER | EA | AC1435 | |
| 101-200-03 | 1 | SV | SAT/COM MF. SKY TRACK | EA | 30020 | |
| 101-200-03 | 1 | SV | SAT/COM MF. SKY TRACK | EA | 30022 | |
| 102-200-01 | 1 | SV | SAT/COM BRACKET | EA | 10038 | |
| 102-200-01 | 1 | SV | SAT/COM BRACKET | EA | 10032 | |
| 102-200-01 | 1 | SV | SAT/COM BRACKET | EA | 10037 | |
| 104-300-01CDP300G | 1 | SV | SAT/COM SKY TRACK | EA | 40007 | |
| 104-300-01CDP300G | 1 | SV | SAT/COM SKY TRACK | EA | 40049 | |
| 105-300-01DVI300G | 1 | SV | SAT/COM SKY TRACK | EA | 30057 | |
| 105-300-01DVI300G | 1 | SV | SAT/COM SKY TRACK | EA | 30009 | |
| 1237-251-100LM | 1 | NEW | HF/SSB TRANSCEIVER (COM-O-PAC) | EA | 6157 | |
| 1237-251-100LM | 1 | SV | HF/SSB TRANSCEIVER (COM-O-PAC) | EA | 6005 | |
| 1237-251-100LM | 1 | SV | HF/SSB TRANSCEIVER (COM-O-PAC) | EA | 6146 | |
| 1237-251-100LM | 1 | SV | HF/SSB TRANSCEIVER (COM-O-PAC) | EA | 6094 | |
| 1237-251-100LM | 1 | SV | HF/SSB TRANSCEIVER (COM-O-PAC) | EA | 6161 | |
| 204-010-724-005 | 1 | SV | SPLIT | EA | | |
| 212-001-057-19 | 1 | SV | ELEVATOR ROD | EA | | |
| 212-001-068-7 | 1 | SV | JACK SHAFT ASSY | EA | | |
| 212-001-079-025 | 1 | SV | TUBE ASSY | EA | | |
| 212-001-196-001 | 1 | SV | TUBE ASSY | EA | | |
| 600-569 | 1 | USED | TRANSDUCER | EA | 477 | |
| 65010-01 | 1 | SV | PITOT HEAD FAIL IND. | EA | | |
| 7001433-902 | 1 | SV | VOICE ADVISORY | EA | 88070554 | |
| A301-6WCR | 1 | SV | AUDIO CONTROLLER | EA | 9203135 | |
| A301-6WCR | 1 | SV | AUDIO CONTROLLER | EA | 750029 | |
| A301-6WCR | 1 | SV | AUDIO CONTROLLER | EA | 750158 | |
| A301-6WCR | 1 | SV | AUDIO CONTROLLER | EA | 8702628 | |
| AT575-9 | 1 | SV | ANTENNA GPS | EA | 15749 | |
| DPU-A-0431 | 1 | SV | TREND CABLE | EA | | |
| EMB-1014 | 1 | SV | MARKER ANTENNA | EA | 1316 | |
| G-4433A | 1 | SV | ADF CONTROL HEAD | EA | 5 | |
| G4434A | 1 | SV | COM CONTROL HEAD | EA | 244 | |
| G4518 | 1 | SV | NAV CONTROL HEAD | EA | 1 | |
| G4518 | 1 | SV | NAV CONTROL HEAD | EA | 245 | |
| 066-1075-71 | 1 | SV | AUDIO PANEL | EA | 164382 | |
| 066-1075-71 | 1 | SV | AUDIO PANEL | EA | 81810 | |
| 100-200-01 | 1 | SV | SAT/COM SKY TRACK | EA | 20016 | |
| 100240 | 1 | SV | BLUE SKY CONTROL HEAD | EA | DD1414 | |
| 100240 | 1 | SV | BLUE SKY CONTROL HEAD | EA | DD1446 | |
| 100260 | 1 | SV | BLUE SKY TRACKING CONTROLLER | EA | AC1408 | |
| 212-077-166 | 1 | SV | COMPASS CONTROL | EA | | |
| 212-077-167-1 | 1 | SV | NAV AUDIO PANEL | EA | | |
| 212-077-170-003 | 1 | SV | HIS PLATE | EA | 320 | |
| 212-11001 | 1 | SV | ESCAPE LADDER | EA | 01-001-0038 | |
| 214-075-244-001 | 1 | SV | RATE GYRO | EA | 3679 | |
| 214-075-244-1 | 1 | SV | RATE TRANSMITTER | EA | U-146 | |
| 2593379-001 | 1 | SV | DUAL REMOTE COMPENSATOR | EA | 4050960 | |
| 2593996-333 | 1 | SV | TARSYN 3 AXIS REF | EA | 78063414 | |
| 2593996-333 | 1 | SV | TARSYN 3 AXIS REF | EA | 208I446 | |
| 2594484 | 1 | SV | FLUX VALVE | EA | 83091589 | |
| 2594484 | 1 | SV | FLUX VALVE | EA | 95021157 | |
| 2594816 | 1 | SV | MOUNTING TRAY | EA | 5021266 | |
| 2594816 | 1 | SV | MOUNTING TRAY | EA | 4020912 | |
| 4300-412 | 1 | SV | STDBY ATT INDICATOR | EA | L08-10766 | |
| 570-074-080-3 | 1 | SV | TRANSDUCER | EA | 219 | |
| 570-074-155-1 | 1 | SV | AMPLI CONTROL UNIT | EA | 16 | |
| 574-074-100-005 | 1 | SV | SYNCHO CONTROL UNIT | EA | CT-222 | |
| 574-074-140-3 | 1 | SV | AFCS PANEL | EA | MR1023 | |
| 574-074-150-001 | 1 | SV | AFCS TRIM PANEL | EA | GT142 | |
| 600-569 | 1 | USED | TRANSDUCER | EA | 335 | |
| 064-1099-00 | 1 | SV | VHF KTR 905 TRANSCEIVER | EA | 2273 | |
| 066-1044-00 | 1 | SV | MARKER RCVR | EA | 1928 | |
| 066-1047-01 | 1 | SV | ADF KDF-805 RECEIVER | EA | 4177 | |
| 066-1070-01 | 1 | SV | DME TRANSCEIVER | EA | 28598 | |
| 066-3012-01 | 1 | SV | MARKER LIGHT ASSEMBLY | EA | 2349 | |
| 066-3012-01 | 1 | SV | MARKER LIGHT ASSEMBLY | EA | 2344 | |
| 066-3044-00 | 1 | SV | RADAR ALTIMETER IND | EA | 3497 | |
| 066-4007-00 | 1 | SV | VHF KNR 630 NAV RECEIVER | EA | 4200 | |
| 066-4007-00 | 1 | SV | VHF KNR 630 NAV RECEIVER | EA | 4141 | |
| 071-1034-00 | 1 | SV | ADF LOOPO ANTENNA | EA | 941 | |
| 071-1076-00 | 1 | SV | RMI CONVERTER | EA | 1731 | |
| 071-1076-00 | 1 | SV | RMI CONVERTER | EA | 1725 | |
| 101-200-03 | 1 | SV | SAT/COM MF. SKY TRACK | EA | 30022 | |
| 101-200-03 | 1 | SV | SAT/COM MF. SKY TRACK | EA | 30010 | |
| 101-200-03 | 1 | SV | SAT/COM MF. SKY TRACK | EA | 30017 | |
| 111302-5 | 1 | SV | HIS | EA | 88862 | |
| 111302-5 | 1 | SV | HIS | EA | 8700 | |
| 111303-4 | 1 | SV | AOT | EA | 4532 | |
| 111303-4 | 1 | SV | AOT | EA | 944 | |
| 209-075-987-1 | 1 | SV | 5V POWER SUPPLY | EA | 7304-2240 | |